Trelleborg Sealing Solutions Germany GmbH
Innovation Center
Trelleborg is a global leader in plastics solutions for sealing, cushioning and protecting sensitive systems in challenging environments such as automotive, aerospace engineering, medicine, healthcare and many more. Trelleborg's innovative solutions contribute to the accelerated and sustainable development of its customers.
LED Chandeliers
As a long-time smartPerform user, Trelleborg also presents itself in its new Innovation Centre Stuttgart in an innovative and interactive way through various media exhibits. Information on so-called LED Chandeliers (LED display surfaces) welcomes visitors and shows news about news and weather of the Trelleborg locations in the playlist operation (digital signage).
Welcome Board
The Welcome Board is designed as an interactive touch display (digital black board) for the self-determined communication of information to visitors and employees. Language switching and multilingual content underscore the company's international focus. As a central information platform, the display offers not only product and brand information, but also new products about Trelleborg and news about the world (RSS feeds), enables taxi call and informs about bus and train connections.
Multi-Touch Table
All exhibits, such as this multi-touch table, for the virtual presentation of the portfolio are networked and thus enable the rapid updating of all content in day-to-day operation. Depending on the frequency of updates and the graphical requirements, all content is either changed in content management mode or automatically synchronized via network drives. Trelleborg employees manage all content.
smartPerform Pro
The user interface with application functions was created and rolled out in no time at all based on the standard creative platform smartPerform Pro.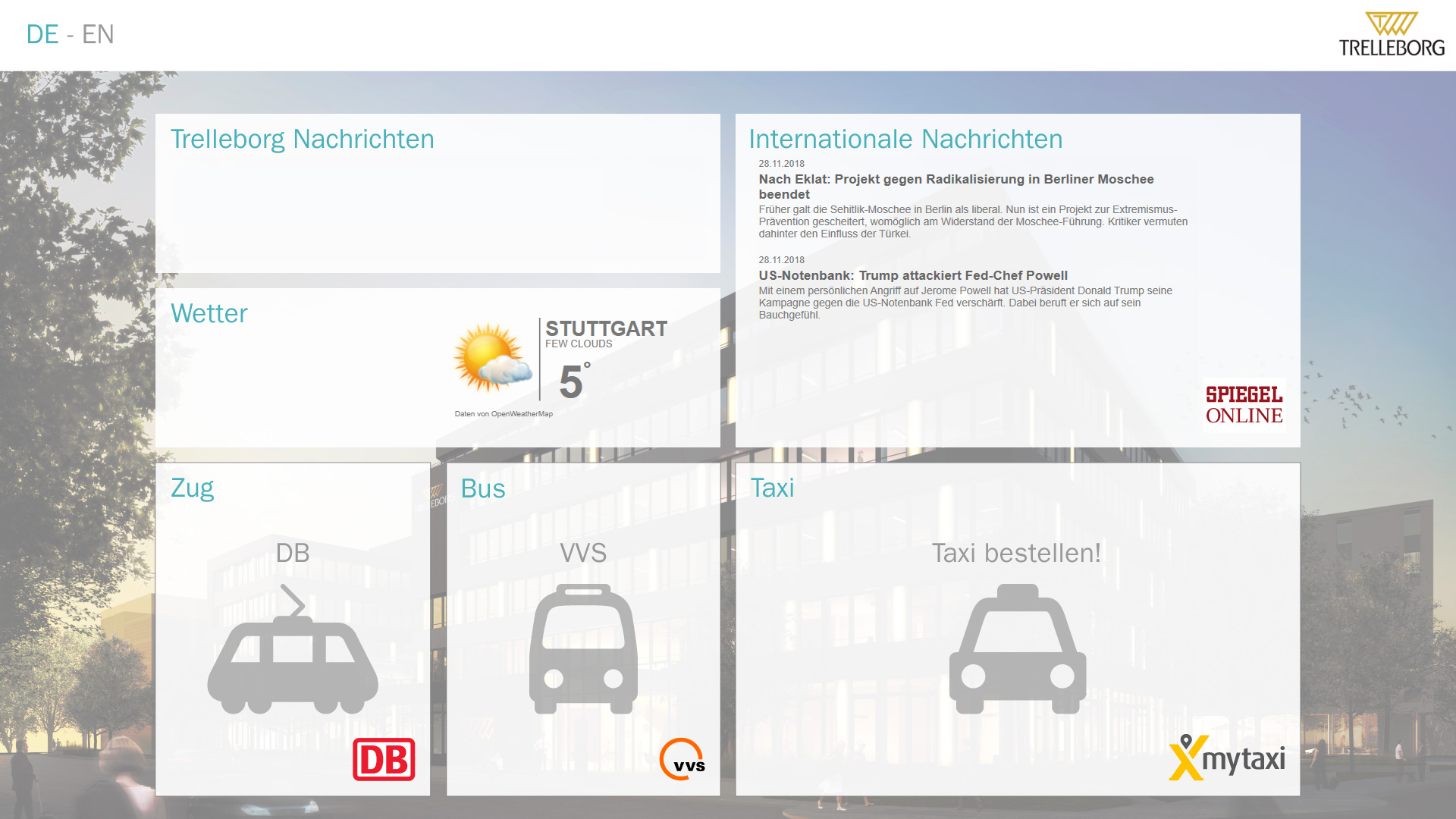 Information Board
The Information Board, in the function as an interactive notice board, shows news from all over the world (RSS feed), weather of the Trelleborg locations, news of the organization (RSS feed), information about public transport and taxi call (web services). A language change allows all international visitors easy to use.
Intuitive User Interfaces
An LED Chandelier (LED display in the format 9:32) informs about the weather of the different locations, times of the locations and date. The sequences are organized via playlists.
Intuitive User Interfaces
… just like information about activities in social projects …
Intuitive User Interfaces
…or customizable visitor welcome and image movies.
Intuitive User Interfaces
The content is easily maintained by the employees themselves via synchronized folders.