The Collaboration App
Your meetings will be simple, creative and inspiring!
The smartPerform Collaboration App gives your meetings, conferences or seminars an unexpected dynamic. Whether it's presentation material, whiteboard features, media files, or live sources, the interactive interface unlocks all sources and brings together your creativity.
User Interface for presentation and collaboration
BYOD - creating something new together
Data access to local storage, cloud and sharepoint
Networked locations - no matter where, a team
Flexible and secure - you define the IT standards
For all touch screens with Windows PC
Collaboration Software for Creative Teamwork
Unlimited presentation and collaboration
The Collaboration App with individual design gives you access to all media content from local storage, network or cloud. The Software is available for Laptop and Room PC or as ProCore Complete System. You work with interactive whiteboard and annotation functions, use your established video conferencing solution and combine everything with the content from your meeting participants' presentation devices into an innovative workspace. The integrated meeting management ensures the storage and distribution of your work results.
Intuitive handling of modern working methods
Connects participants and technical standards
Uses existing AV/IT infrastructures
Proven processes for efficient results
Integration of your room booking and media control
High profitability - thanks to savings in set-up and travel costs
Applications
Simple and professional – teamwork in the room and across room boundaries.
One or more screens, ideally one with touch function, and a Windows PC are the platform for your smartPerform Collaboration App as an intuitive work environment for presentation, collaboration and management.
On the road with the customer or in the home office?
With the integrated smartPerform web service, participation in the meeting is possible via any web browser – depending on approval authorizations, employees in the home office can participate in the meeting via the Internet.
No matter where – one team!
How your team is composed and where it is located does not matter. Multiple Collaboration App users at different locations are connected to a meeting at the push of a button – quickly and efficiently.
Exchange ideas together, create something new
The networking of the Collaboration App with Smartphones and Tablets enables amazingly simple collaborative work forms between the meeting participants and their different device platforms.
Intuitive User Interfaces, Smart Functions
One Interface for Presentation, Collaboration and Management
Turn any interactive touch screen into an intuitive user experience. The app combines management and presentation functions for all media files and live sources in one interactive interface. Work and creative functions as well as sophisticated usage concepts reduce technical hurdles, increase the efficiency of a meeting and minimize training expenses and costs for users and operators. Your employees will be ideally trained for the changes in work and collaboration forms (digital transformation).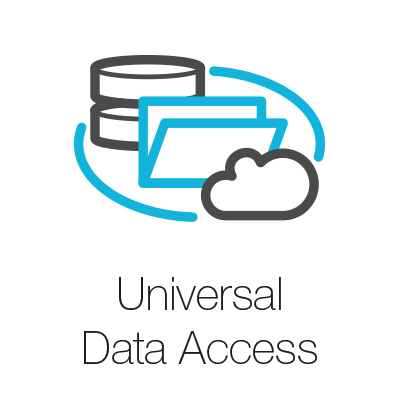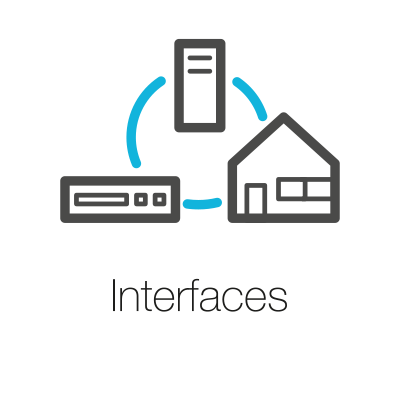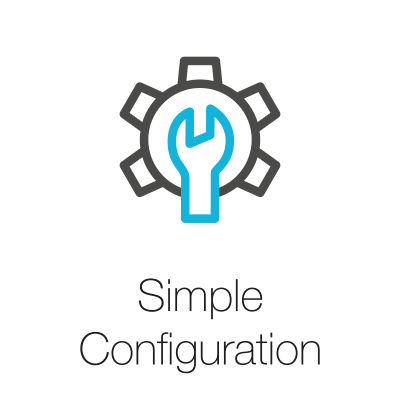 Intuitive User Guidance
The clearly arranged main menu provides access to all presentation and work functions at a single touch. The quick navigation bar creates a structured overview and access to the presentation history, open applications or favorites.
Media Files
Presentation and execution of all common media formats.
Universal Data Access
Access to all media content from local storage, network and cloud storage support (O365 SharePoint, OneDrive, GoogleDrive, SharpCloud)
Live Sources & Video Conferencing
Display of live signals from connected laptops, tablets, document cameras or video conferencing systems.
BYOD Mobile App / Web-Browser
BYOD functions enable collaborative Working forms between the App and smartphones / tablets or devices with web browsers.
Annotation & Whiteboard
All media formats can be edited through annotation functions or the corresponding original program, such as PowerPoint. A simple whiteboard is the ideal work surface for creative ideas.
Connected Collaboration
Functions for cross-space and cross-screen collaboration in the corporate network with Auto-Discovery for easy networking of your locations.
Meeting Management
Defined process for Start and End meeting meeting end ensure safe operation and prevent data loss. Users can save the entire meeting progress any time and access it later again.
Sharing
Split your contributions simply by drag & drop to different directories, mobile devices or send the results by e-mail.
Applications
Programs and applications can be integrated into the menu bar.
Multi-Language User Interface
For the user interface the app offers the choice between two languages. The languages can be selected in the configuration menu. Further language versions can be added by the operator.

Single-/Multi-Window
Mulitple presentation, positioning and editing of different media formats with variable window sizes, zoomable content and full-screen presentation of the media formats are no problem for the app.
Interfaces
An RS232 / IP interface allows interaction with media controls for external power on / off processes or invocation of presets for AV, IT and building services.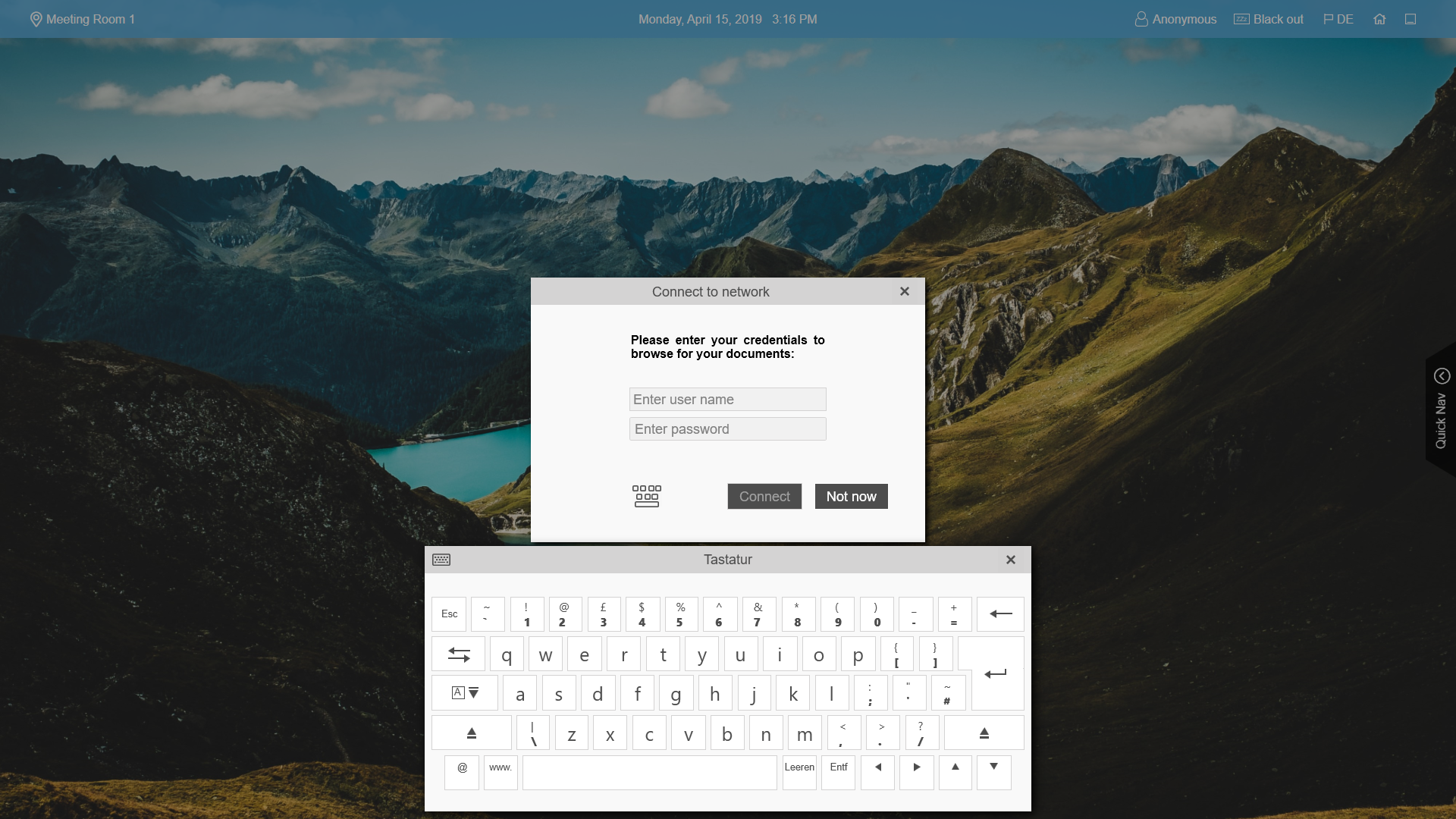 IT Process
Different IT processes require a flexible approach when it comes to accessing data – the app enables network login via Active Directory, operation with standard users, Exchange, email servers or fixed working directories.
Simple Configuration
The options of the configuration menu include design adjustment, language selection, IT function settings and more.
Help
Do you need support, but nobody is around right now? Use the Help button to access the help menu anytime.
Bring Your Own Device (BYOD) Connectivity
Smooth Integration of Mobile Devices
BYOD refers to the transfer of screen content or data from mobile devices such as laptops, tablets or smartphones into the networks of companies and educational institutions. In conjunction with BYOD, smartPerform enables amazingly simple collaborative work forms between users and their different device platforms.
BYOD Mobile App / Web-Browser
Services
Connects iOS and Android devices to the Collaboration App via smartPerform Mobile App
Connects PCs to the Collaboration App via web browser service
Enables collaborative work with numerous presentation and moderation features
AirServer
Services
Wireless transmission of the device image display of mobile end devices
Integration with the Collaboration App
Win-Touch-Back Function
Video In
Services
Transmission from one or more live sources such as PCs or document cameras
Wired or wireless transmission standards
Integration with the Collaboration App
In the Spotlight of Your Meeting
Intuitive – Universal – Upgradeable
As its core, the app combines all media files, live sources and functions for presentation, meeting and collaboration within one intuitive user interface. Among the options in the configuration menu are design adjustments, language selections, IT function settings and more.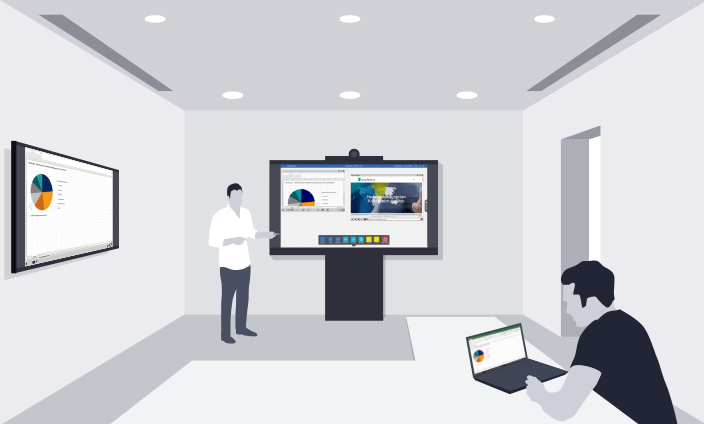 System Landscape
A touch screen with Windows PC is the platform for your smartPerform Collaboration App. Optional components of the app include loudspeakers, microphone or a camera for video conferencing. The individual components or complete project bundles for the Collaboration App are available from any authorized dealer.
Pro Upgrade
To meet individual requirements beyond the scope of the current app version, the Pro upgrade expands the functional scope of the Collaboration App immensely. Individualized designs or functions/processes for brainstorming, analysis, mind mapping, shop floor, linked screens, integration with media and facility control or back-end systems can be configured according to client specifications in the smartPerform Pro Designer Edition. We will gladly advise you!