All-in-One Solution Example for Education and Training with Large Screen Systems from Lecturer Workstation
Category: Teaching and Learning
Modern, Hybrid Forms of Teaching
Overall, the demands on the technology of modern education and training programs are increasing: It should be multimedia-based, flexible and easy to use for everyone – instructors, lecturers and pupils, students and participants – at best without training. This can be achieved with forward-looking presentation and seminar technology that goes beyond classic school equipment. The aim is to create functions for classroom and hybrid teaching formats and to combine them with existing communication tools to create a sustainable application. In our example, we present a complete solution consisting of hardware and software components from renowned manufacturers that meets all the requirements of today and tomorrow.
The All-In-One Solution Example Includes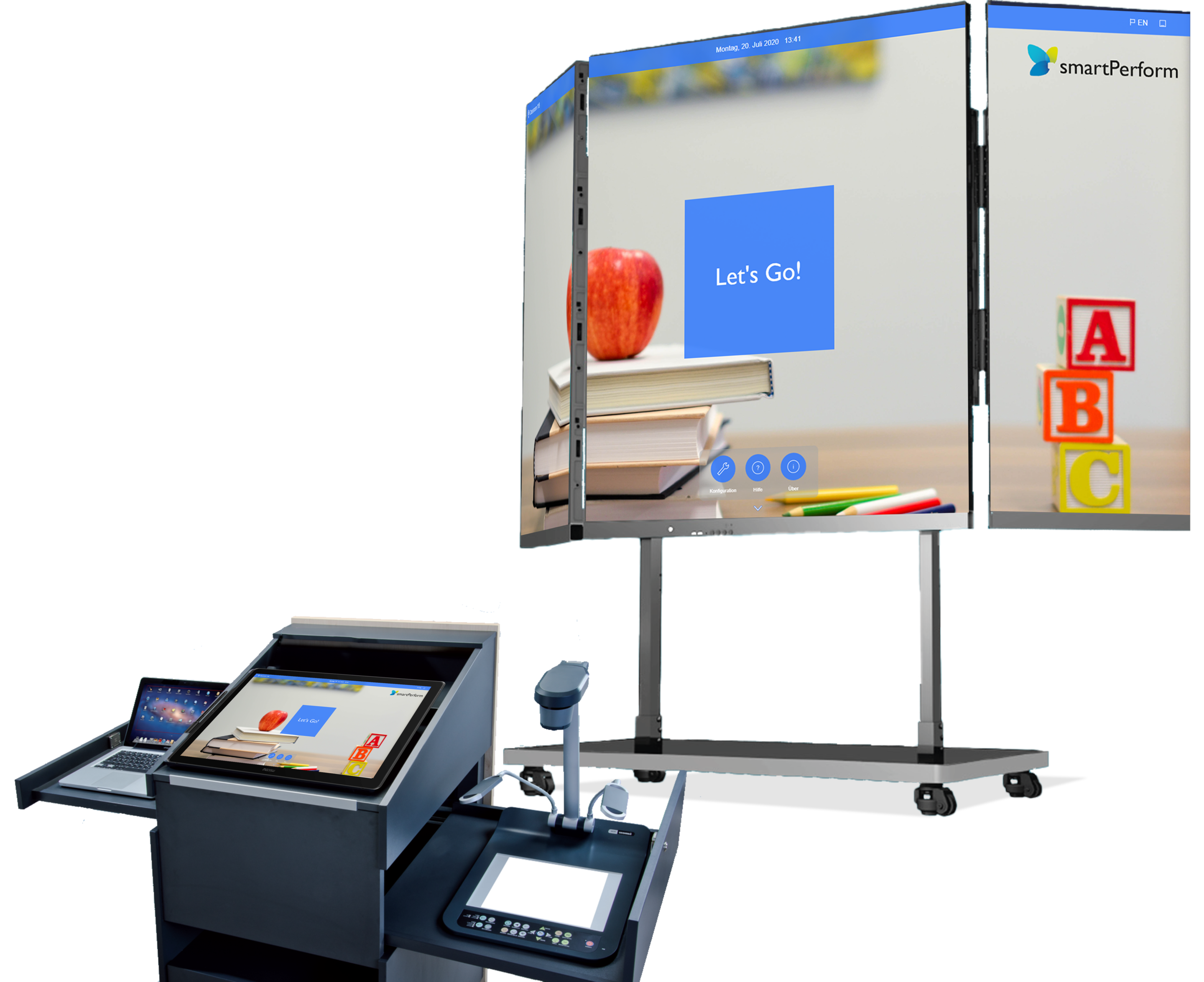 expromo LED System eXview PLUS 1080P GLIDE 110″ All In One Unit
Wacom Touchdisplay DTH-2452 with touch and pen recognition Document camera Epson EL-PDC13
Inobjekt lecturer desk teach.education
smartPerform room operating system ProCore Hybrid Teaching incl. Win-PC
BYOD Connectivity and Education App User Application
Price* end customer net
LED system from 31.250,00 €
Accessories 6.500,00 €
Different equipment options such as sizes or performance are offered by all manufacturers.
* Price quotation is an end customer budget price for a solution net as of May 2022. Prices are subject to change due to current market conditions in the AVT industry.
Theft and Vandalism Proof
Writing Feeling like on Paper
Durable and Suitable for Daylight
All-In-One Solution with Extensive
Equipment
Versatile Application Possibilities
Sophisticated Media Furniture
smartPerform ProCore Hybrid Teaching
The ProCore Hybrid Platform is your flexible room operating system for modern face-to-face teaching and hybrid teaching and learning.
Complete system for hybrid and traditional forms of teaching
Intuitive Education App user interface
Integrates video conferencing standards and learning platforms
Bring Your Own Device Connectivity (BYOD)
Meets IT security requirements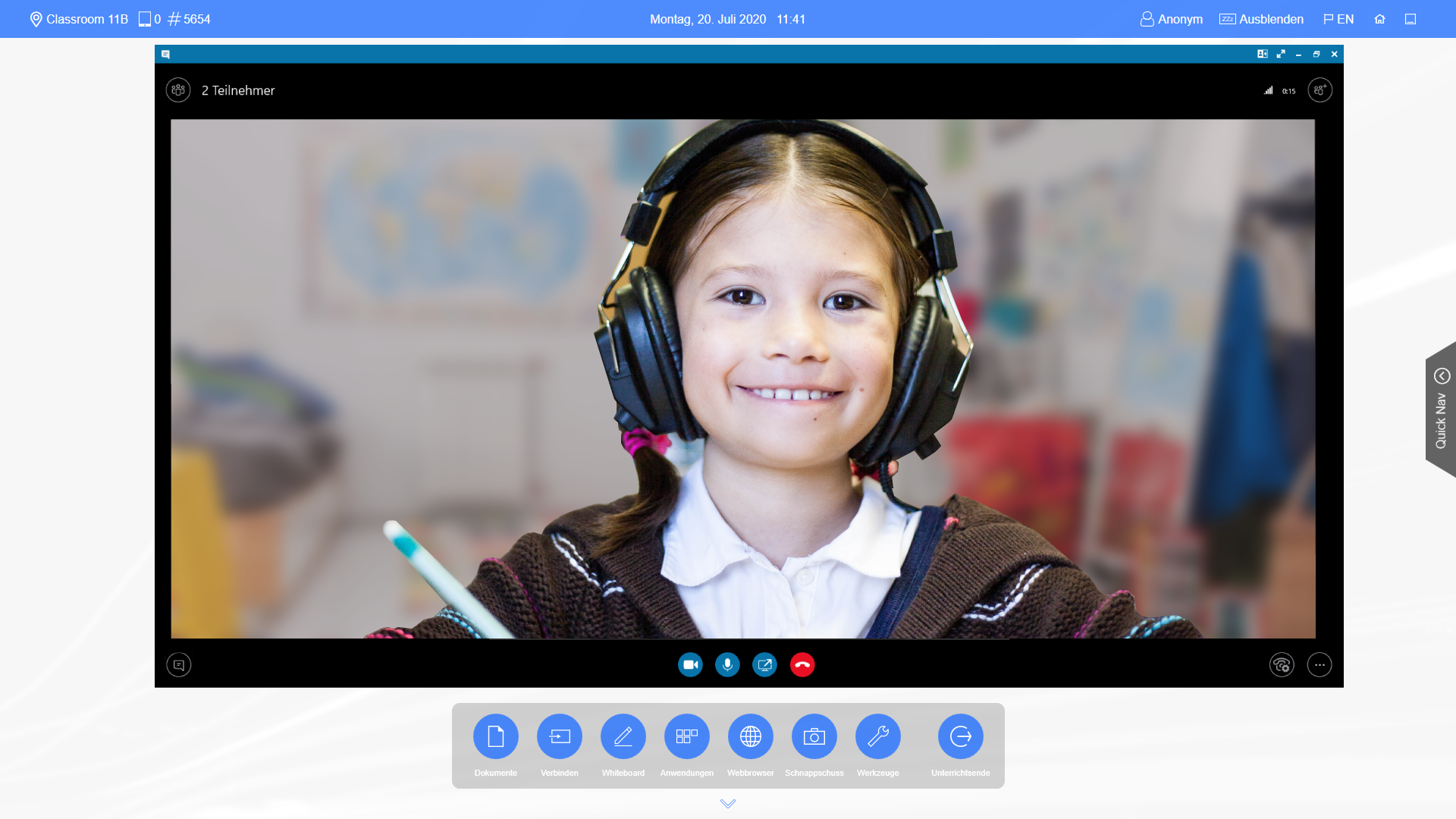 smartPerform Education App for Hybrid Teaching
The Education App opens up access to all learning content from the network, cloud and learning libraries. The software is available for laptop and room PC or as a ProCore complete system.
Only one intuitive user application
Connects participants and technology standards
Proven workflows for efficient results
Networks with lecture capture systems and media controls
Lesson management
Inobjekt – in Detail
Inobjekt stands for individual media furniture since 1991. Besides a high quality of manufacturing and the high functionality, the adaptability to the needs of the user and the flexibility is a unique selling point of Inobjekt. Thus, we integrate your desired media technology in a visually appealing and user-friendly way into conference room furniture, lecture hall furniture and school furniture.
Inobjekt lecturer desk teach.education
The lecturer's desk stores all technical equipment in a theft- and vandal-proof manner. The side pullouts provide storage space for the document camera and notebooks. The Wacom interactive display is installed in the upper area, which can be closed with a cover plate if required.
Ideal for presentation teaching
Ergonomic – height adjustment with gas lift
Wacom Touch Display with pen recognition for a writing feeling like on paper
Sophisticated media furniture with many details
Space for document cameras, in budget with Epson EL-PDC13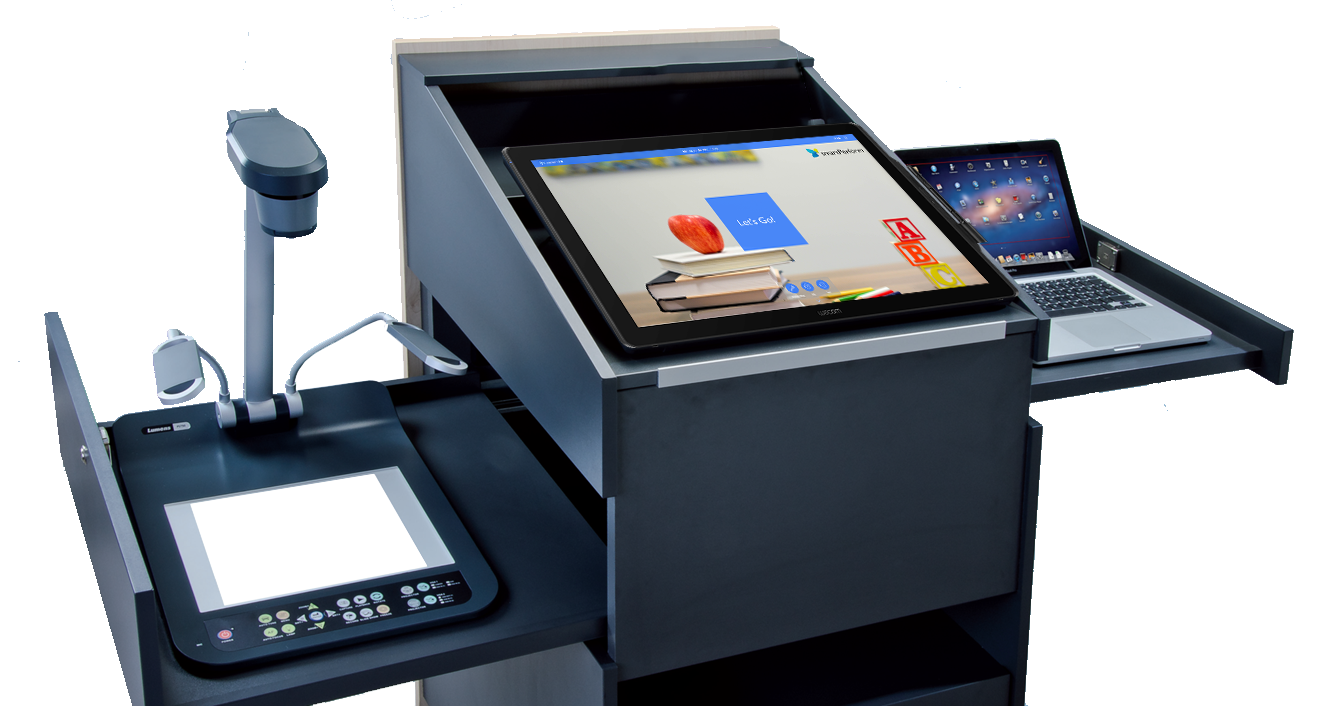 Expromo – in Detail
LED video in a class of its own. Expromo Europe A/S is a subsidiary of ProShop Europe A/S. The company was founded in 2003 in Aarhus. For almost 20 years now, the focus has been on professional LED and SMD display solutions. Customer proximity is our premise. That is why we operate branches in Copenhagen, Hamburg and Stuttgart (Backnang). In addition, Expromo has its own division in Shenzhen (China)
The eXview series is available as standard or in foldable, mobile version. In the standard version, the screen diagonal is 110″ and comes with a resolution of 1080p (FullHD) or 720p. The foldable version is perfect for applications where flexibility is important.
Wall mounted or mobile unit with electric height adjustment
Suitable for daylight
Wide viewing angle and high image quality
100,000 operating hours ensure a sustainable investment
Ready for innovation?
Write to us! We are here for you.